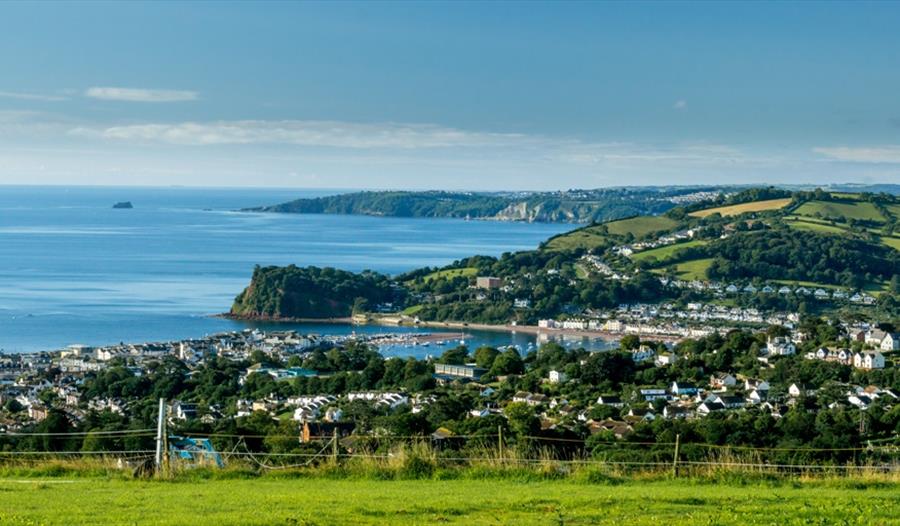 Teignmouth is the the gem of South Devon. I can say this with conviction because it says so on the road signs as you enter the town. Plus, it's where I live.
With its red sandy beaches (it has two: Front and Back Beach) a long(ish) promenade, independent shops and cafes, there's something for everyone.
Here are my recommendations of things to do when visiting my lovely little seaside town, in no particular order.
Visit Back Beach – not as big or as obvious as the main Front beach, Back Beach is where the locals hang out. It's small so can get a little crowded in the height of summer, but the atmosphere is fantastic. Sit and soak up the sun while watching the paddle boarders, dingys and fishing trawlers come in. Teignmouth is a working port so there is always something to see. If you're about over the summer, pop down to Back Beach on a Saturday afternoon and watch the Seine boat rowing races. Both men's and women's teams slog it out racing either up the estuary or out to sea.
Finish your day with a BBQ or with a snack from the excellent vendors: Nick Nack noodles serving the freshest and the tastiest Thai dishes or the Teign Canteen, serving a range of fresh, locally caught produce. I highly recommend the Halloumi burger (not locally caught!). Watch the sunset over Dartmoor in the distance and wonder why you can't just stay forever.
Drink at the Ship Inn – Hang out with the locals at the fabulous bar on the beach. Sit inside by the fire over winter or sit on the sand with your cool pint over the summer. Serving food at very reasonable prices you cannot go wrong with this place. It can get very crowded over the summer months, but I think it's worth waiting in the queue at the bar to drink a local ale in the sunshine.
http://www.theshipinnteignmouth.co.u
Carnival Week – when it is carnival week the whole town is festooned with bunting, smiles and music! There are a whole host of activities on the Den, the large green area in the middle of town, including a fun fair, concerts and games for everyone to join in. To kick start the week the roads are closed for a procession of local residents dressed up, dancing on floats advertising their businesses and clubs. Everyone is involved from the very young to the very old. Secure your place early on the road side for the best view of the procession.
http://www.teignmouthcarnival.co.uk

Stroll along the sea wall – Walk the length of Teignmouth from the Point car park along the promenade and over the sea wall. This beautiful walk will leave you mesmerised with extensive views out to Torbay and Exmouth. There are also lots of opportunities to see wildlife: if you are lucky you will see dolphins and seals.
Buy food at the Farmer's Market – Selling fresh, local produce every last Saturday of the month in The Triangle from 10am until 2pm. There's usually some live music to keep you entertained while you wander around the stalls sampling the best of what Teignmouth has to offer.
Soak up the culture in the Art's Quarter – the ever growing Art's Quarter of Teignmouth is a great place to buy anything from quirky locally made jewellery to beautiful art. There are a number of galleries, including the TAAG gallery: a community space where local residents can exhibit or take part in classes. Be sure to pop into the award winning Laura Wall's gallery to view the locally inspired seaside prints.
http://www.laurawall.com
Visit the Pavilions – This newly renovated building is a great space: eat upstairs on the outside terrace, watch the latest film or visit the comedy club on Fridays – check the website foraccurate dates.
http://www.pavilionsteignmouth.org.uk
Take the ferry over to Shaldon -The Teignmouth to Shaldon passenger ferry is a central part of life on the River Teign. The ferry crossing can be traced back to 1296, but is probably much older, with origins in Saxon times. For only a few pounds you get a lovely return crossing to the village of Shaldon, with its quaint eateries and thatched cottages.
Have a cocktail at the Bronx Bar – the award winning bar staff at this cool hangout prepare you drinks that make you feel like your in a trendy Soho bar, not a little Devonshire seaside town. Their cocktail list is pretty impressive, so you might want to make sure that you walk or get a taxi! The food is also excellent. Booking a table is advisable over the holiday periods.
http://www.thebronx.co.uk
Go Paddle Boarding – You can hire paddle boards from around £10 a hour from Sea Sports, which is located on Back beach. Paddle up the estuary for a fun, safe environment to find your balance. There are showers and changing rooms to use when your done too, because, lets face it, you will fall in.
http://www.seasports-sw.com
If my little town has captured your imagination, come and visit. And if my words didn't quite tempt you enough, check out this drone footage on youtube. https://www.youtube.com/watch?v=WD2YADXtnJ8